Boy, 8, left scarred after allergic reaction to henna tattoo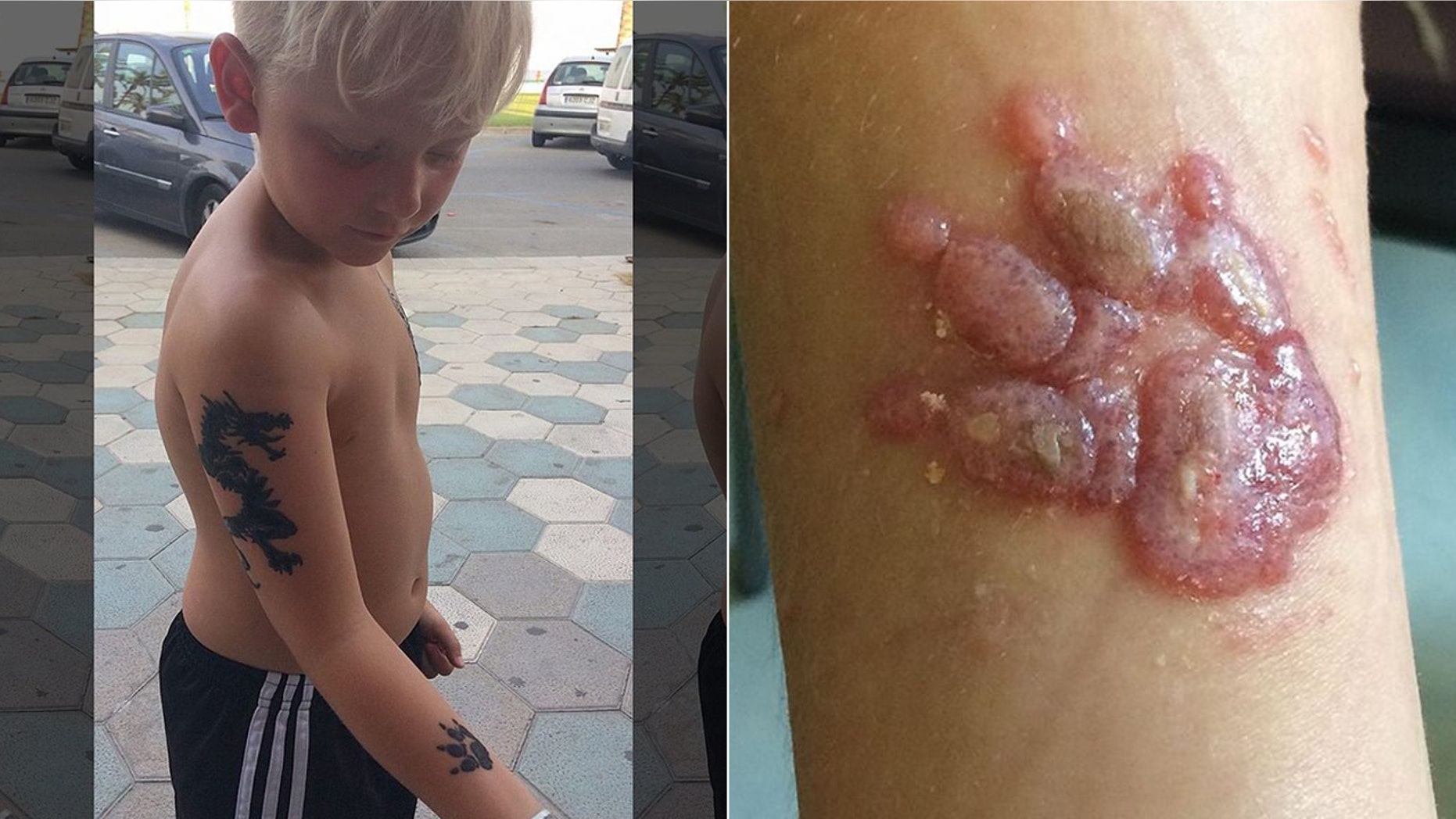 Owen Richardson, who had begged his parents for the tattoo while in Spain last August, was told he may possibly need skin grafts to fix the damage left behind by the henna tattoos which were in the shapes of a dragon, a tribal symbol and a paw print.
(Kennedy News & Media )
The mother of an 8-year-old boy who landed in the emergency room after having a severe reaction to a black henna tattoo is speaking out to warn others about the dangers of a seemingly harmless vacation treat.
Owen Richardson, who had begged his parents for the tattoo while in Spain last August, was told he may possibly need skin grafts to fix the damage left behind by the henna tattoos, which were in the shapes of a dragon, a tribal symbol and a paw print.
"The dragon took up most of his upper right arm and, because it was so detailed, it took around 40 minutes to complete. Owen was thrilled with them and was beaming — he couldn't wait to show them off," Leanne Richardson told Metro.co.uk
WOMAN CLAIMS ALLERGIC REACTION TO VAPE CAUSED PAINFUL RASH, REQUIRED HOSPITAL VISIT
But when the family returned to England and the black flakes of the tattoo peeled off, Owen's skin erupted in welts. Richardson said she took her son to the doctor, where they determined paraphenylenediamine (PPD), a chemical commonly used in black henna, was the culprit. The chemical can also be found in hair dyes and can cause severe reactions or complications in some people.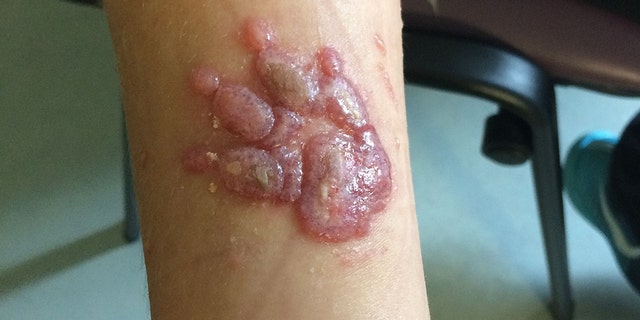 The family said they didn't know about the risks before allowing their son to get the tattoos. 
(Kennedy News & Media)
"We knew nothing about the dangers of black henna tattoos [and] when I finally googled it my blood ran cold," Richardson told Metro.co.uk. "It broke my heart knowing I allowed my son to be harmed in this way."
Owen's symptoms continued to worsen, and he was rushed to the emergency room when the burns looked infected. He was prescribed antibiotics and steroid cream, but when his body erupted in a rash he was admitted to the burn unit.
TEXAS WOMAN HAS SKIN BURNED OFF TO TREAT RARE CONDITION THAT CAUSED NOSE TO DOUBLE IN SIZE 
Now Richardson said her son is self-conscious about his scars, and that she is even careful about dying her hair around him due to the potential for a reaction.
CLICK HERE TO GET THE FOX NEWS APP
"In worst-case scenarios people can go into anaphylactic shock," she told Metro.co.uk. "Not everyone has a reaction to it but don't take that chance, it's not really worth that risk."
Source: Read Full Article