'Building Bridges:' A Radiation Oncologist Serves the Community
Despite the ongoing controversy and politics surrounding the COVID-19 pandemic, one radiation oncologist didn't bat an eye when the opportunity to join his county's board of health arose.
Although public health officials have been at the center of tense, even hostile, discussions about COVID-19 restrictions, Houman Vaghefi, MD, PhD, medical director of radiation oncology at the Goshen Center for Cancer Care in Elkhart County, Indiana, says the timing was right to be part of an entity responsible for protecting and assuring the health of the public.
For Vaghefi, joining the Elkhart County Board of Health role in December was not so much about pushing back or crossing the aisle, but about giving back and building bridges.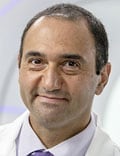 Dr Houman Vaghefi
"I'm new to this, but most of it really has to do with bringing people together," he told Medscape Medical News a few months into his tenure. "People have different opinions, and we need to listen to both sides, consider the facts, and make medical recommendations. For that reason, I thought, well, this may be the perfect time to serve the community and region."
Serving is nothing new to Vaghefi, who has been with Goshen Health for more than a decade. He's the Morale and Wellness Committee leader and on the Institutional Review Board there as well as on the medical board at nearby John Patrick University in South Bend, Indiana.
He also serves as a US Army solider in the Indiana Army National Guard.
"It's a very important part of my life and I really enjoy it," he said, adding that his time spent training and on missions gives him a "rush of energy."
"I always wanted to serve this country," he added. "Whatever I have is because of the US and all of the opportunities here."
His compassion to serve, listen to different points of view, and engage with community partners and stakeholders, alongside his background in biochemistry and molecular biology, bring vital strength to the County Health Board, according to an announcement of his appointment.
Vaghefi said he was drawn to radiation oncology, in particular, because of the variety his work offers. He gets to focus on cancer care, spend time with patients and in the operating room, and use his experience in science, math, and physics.
As a member of the Elkhart County Board of Health, he gets to work with "opinionated, smart, passionate people" and "learn from all sides."
How does he balance it all? Vaghefi said it's about passion and pursuing the things that feed it — whether that's spending family time with his wife and two children (and their dog and cat!), treating patients, serving the community, or being a huge soccer fan. Living and working in the Midwest helps too.
"We've always wanted to stay in this part of the country," he said. "Goshen nicely represents what happens everywhere else in the country."
It's a great place to get a feel for the healthcare needs and politics of a community. And he sees the community's willingness to learn and grow across generations, which provides him "a good opportunity to get in there and try to make a difference."
So far, he says his work with the board has been enjoyable and enlightening. In this job, "we can bring people together and put patients at the center."
For those interested but hesitant to get involved in similar ways, Vaghefi offers a bit of advice: (1) get together with good, smart people; (2) learn the facts, listen, and have an open mind; and (3) build bridges.
Sharon Worcester is an award-winning medical journalist at MDedge News, part of the Medscape Professional Network.
For more news, follow Medscape on Facebook, Twitter, Instagram, YouTube, and LinkedIn
Source: Read Full Article