Funding of Cosmetic Trials Affects Racial/Ethnic Disparity
Individuals of nonwhite race/ethnicity are underrepresented in cosmetic clinical trials. Individuals of nonwhite race/ethnicity are not underrepresented in cosmetic clinical trials, according to a recent literature review.
The explanation for those contradictory conclusions comes down to money, or, more specifically, the source of the money.
Among the cosmetic studies funded by industry, non-Whites represented about 25% of the patient populations. That proportion, however, rose to 62% for studies that were funded by universities/governments or had no funding source reported, Lisa Akintilo, MD, and associates said in their review.
"Lack of inclusion of diverse patient populations is both a medical and moral issue as conclusions of such homogeneous studies may not be generalizable. In the realm of cosmetic dermatology, diverse research cohorts are needed to identify potential disparities in therapies for cosmetic concerns and fully investigate effective treatments for all," wrote Dr. Akintilo of New York University and coauthors.
Data from the U.S. Census show that non-Hispanic Whites made up 60% of the population in 2019, with that proportion falling to about 50% by 2045, the investigators noted. A report from the American Society of Plastic Surgeons showed that about 34% of cosmetic patients identified as skin of color in 2020.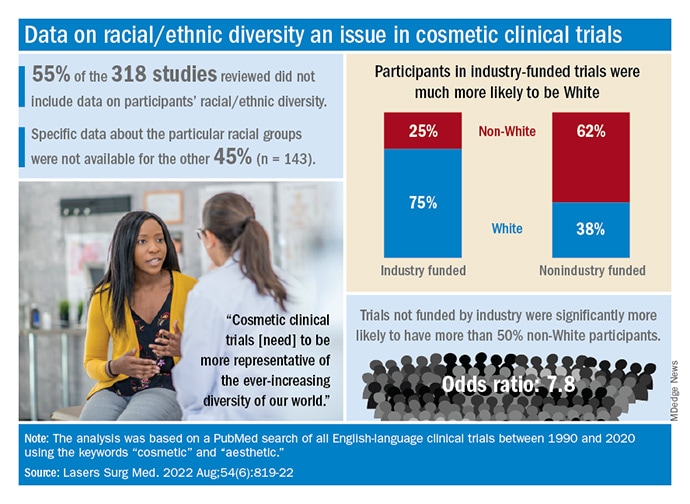 The availability of data was an issue in the review of the literature from 1990 to 2020, as 55% of the 318 randomized controlled trials that were reviewed did not include any information on racial/ethnic diversity and the other 143 studies offered only enough to determine White/non-White status, they explained.
That limitation meant that those 143 studies had to form the basis of the funding analysis, which also indicated that the studies with funding outside of industry were significantly more likely (odds ratio, 7.8) to have more than 50% non-White participants, compared with the industry-funded trials. The projects with industry backing, however, had a larger mean sample size than did those without: 139 vs. 81, Dr. Akintilo and associates said.
"The protocols of cosmetic trials should be questioned, as many target Caucasian‐centric treatment goals that may not be in alignment with the goals of skin of color patients," they wrote. "It is important for cosmetic providers to recognize the well-established anatomical variations between different races and ethnicities and how they can inform desired cosmetic procedures."
The investigators said that they had no conflicts of interest.
This article originally appeared on MDedge.com, part of the Medscape Professional Network.
Source: Read Full Article