Giada De Laurentiis Has a New Baking Show
Here we thought 2018 was Giada De Laurentiis' biggest and best year to date. Not only did the Food Network star release a gourmet popcorn line, Simply7, boasting authentic Italian flavors and clean ingredients, but the Giada at Home host also created a new Dutch oven with Italian cookware company Lagostina. Not to mention, the chef and cookbook author also kept plenty busy co-hosting Food Network Star with Bobby Flay.
We're only a few days into 2019, and De Laurentiis has added yet another cooking competition show to her name: Winner Cake All.
Premiering on Jan. 7, Winner Cake All is an epic cake contest where four bakers compete in a series of challenges to create everything from intricate cake toppers to towering cakes. The winner from each episode wins a $10,000 prize.
And, trust us, these competitions are tough.
In the first episode, the contestants have to bake a birthday cake for quintuplets girls. Yes, you read that right: quintuplets. The cake is for the Busby family from TLC's OutDaughtered, and the giant cake must have puppies, unicorns and rainbows for the quintuplets' fourth birthday party, where more than 150 guests are expected to attend.
What a way to kick off the show, De Laurentiis.
Episode 2, which airs Jan. 12, is no less difficult. The clients are a bride-to-be and her maid of honor, and they've requested a nautical cake for a "Bon Voyage to the Single Life"-themed bachelorette party.
Winner Cake All will feature a rotating panel of judges, including Dan Langan of Baked By Dan, YouTube baking sensation Yolanda Gampp, pastry chef Damiano Carrara and more.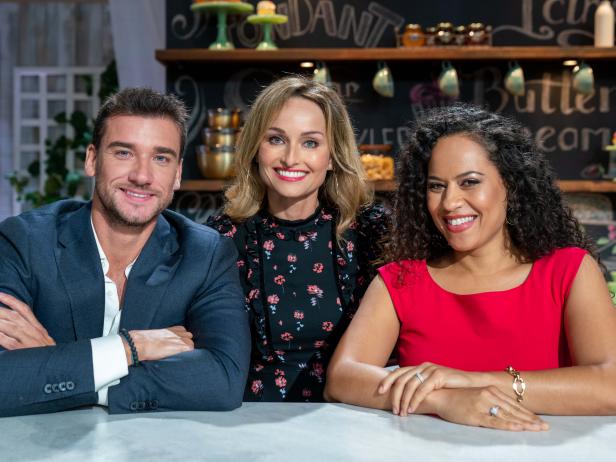 Viewers can also expect to see some famous clients requesting over-the-top cakes, including Guy Fieri and former NFL running back Rashad Jennings.
Winner Cake All premieres today, Jan. 7 at 10/9c on Food Network.
Source: Read Full Article