Marcia Cross Just Revealed New Details About Her Anal Cancer In Hopes Of Ending The 'Stigma'
In a new interview with People magazine, Marcia Cross revealed more details about her anal cancer diagnosis nearly a year and a half ago.
The Desperate Housewives actress said she was diagnosed in 2017 during a gynecological exam.
Marcia went public with her story via Instagram posts in September, in hopes of normalizing the disease.
Actress Marcia Cross was diagnosed with anal cancer nearly a year and a half ago—now, she's opening up about the disease in hopes that she can normalize it for others.
In a new interview with People magazine, the former Desperate Housewives star revealed even more details on being diagnosed with (and undergoing treatment for) anal cancer—for which she is currently in remission.
Marcia, 57, says the entire experience—complete with three months of "gnarly" treatments—"changed her." According to People, though the actress is normally introverted, she felt compelled to share her story publicly—first, on Instagram through various photos of her journey.
So grateful and happy to be alive but sad that my hair fell out and is about 1 inch long now and looks cra cra. Anyone else have #hairloss due to #cancer? Talk to me. I feel you. Xxoo m❤️❤️❤️
A post shared by reallymarcia (@reallymarcia) on
"I want to help put a dent in the stigma around anal cancer," she said. "I've read a lot of cancer-survivor stories, and many people, women especially, were too embarrassed to say what kind of cancer they had. There is a lot of shame about it. I want that to stop."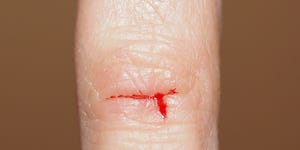 Marcia told People she was diagnosed with anal cancer in November 2017 following a checkup with her gynecologist. After her ob-gyn performed a digital rectal exam, Marcia was immediately sent to a colon and rectal surgeon. After two biopsies, Marcia was told she hand anal cancer, and began six weeks of radiation and chemotherapy.
Though her treatment was difficult, Marcia still kept a positive attitude throughout. "Surgery wasn't recommended, which was a relief. You want to preserve sphincter muscles if possible," she told People.
Love love love Healthy Marcia! Xoxoxo❤️❤️❤️
A post shared by reallymarcia (@reallymarcia) on
As for her other treatments: "In the beginning, I just sort of lay down for the parting of the cheeks and I would float away," she said.
Marcia has been in remission for nearly a year, and says she has a low chance of recurrence—along with a newfound respect for her anus. "Having woken up to its importance, I am now a big fan of the anus!" she said. "Every time I go to the bathroom, I think, 'That's awesome! Thank you, body.'"
Marcia also stressed the importance of knowing the symptoms of anal cancer, which include bleeding, pain, itching, and lumps in the rectal area. "If something doesn't feel right, listen to your body and talk to your doctor," she said. "Don't let it go. It's a very curable cancer if caught early, which mine was."
Source: Read Full Article