Psychology patients have unmet demand for male therapists
Many psychology patients would prefer to see a male therapist, possibly because they are considered "more authoritative".
Researcher Eyal Gringart from Edith Cowan University said the finding was unexpected.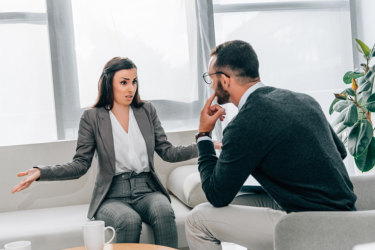 Among those women who have a preference for a therapist of a particular gender, 90 per cent would prefer to see a man.Credit:Alamy
"It didn't astonish us but it did surprise us," Dr Gringart said. "The ratio of female to male clinical psychologists is about four to one [in Australia], so we were interested to see if this was an issue."
Dr Gringart, who co-authored a paper in Australian Psychologist with Stephanie Black from the University of Western Australia, said it was important to get more male therapists in Australia, because the research suggested people's preferences affected their likelihood to seek mental health support. Men are about three times more likely to die from suicide than women.
More than half of respondents had no preference for a therapist of a particular gender, but 43 per cent did. Three out of five men with a preference say they would rather see a male therapist, while nine out of 10 women with a preference would also prefer a man.
The research was based on an online survey with self-selected participants and a sample size of 456. Dr Gringart said it was an exploratory study and the results suggested a more robust research project was warranted.
The survey did not ask respondents the reason for their preference, but Dr Gringart thought gender stereotypes would come into play.
"It stands to reason when we consider the social psychology of matters like this that females may be considered to have more warmth and understanding, while men are thought to give more authoritative direction," he said. "Women may believe they already get that from their own peer group and want a perspective that's more typically male, for example if they're seeking advice on relationship issues in a heterosexual relationship."
He also suggested men might feel more comfortable confiding in another male.
Not everyone agrees. One man, who started seeing a therapist for the first time this week, told The Sun-Herald he preferred to see a woman. "I pretty much knew I was going to get very upset and I guess I figured I would find it easier to let that happen in front of a woman," he said.
Another man said he grew up in a "very rough / gruff tough man family" and it was "hard to undo mentally to bring down that wall of sharing feelings with other men".
Source: Read Full Article