The 10 Most Incredible Peanut Butter Snacks You'll Ever Eat
Peanut Butter is one of the America's most loved foods. It goes great with chocolate and was stuffed in just about all of our lunch boxes as kids. But does this calorie dense deliciousness have a place in a meal plan designed to keep you lean and fit? Definitely. Here are 10 great ways to incorporate peanut butter into your day while keeping your weight on track.
1. Protein Spiked Peanut Butter
P28 is known for his high protein wrap and bagels but P28 also have a high protein peanut butter that is fortified with whey protein so that you get an impressive 14g of protein per serving.
2. Keto PB Bacon Roll-Ups
These delicious keto-friendly are a go-to for Jim Ferris, a Philadelphia-based performance specialist at Primal Physical Therapy. Jim starts his day training clients before the sun comes up and finishes after it sets. These portable peanut butter bombs help keep Jim going all day. For a change of pace swap out peanut butter for almond butter.
Ingredients
* 4 Tbsp all-natural peanut butter
* 4 strips of bacon
How to Prepare: Cook bacon on parchment paper in a, pre-heated, 425 degree oven for 18-22 minutes. You want the bacon to be a little soft so that you can roll it. If you cook it too crispy, it will crack and not roll. Once the bacon is cooked, pat dry and spread 1 Tbsp of peanut butter on each slice of bacon. Roll up each slice of bacon (skew with a toothpick to hold in place if needed). Place in refrigerator until cool.
3. Chocolate Peanut Butter Oats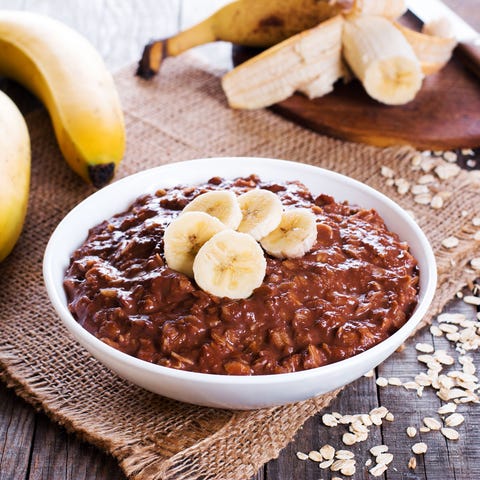 QwartGetty Images
It is hard to have a bad day when you start off your morning with a breakfast that tastes like eating a bowl full of Reese's Peanut Butter Cups. This recipe will quickly become your goto breakfast when you need to satisfy your cravings.
Ingredients
* ⅔ cup cup rolled oats
* 1 ⅓ cup Fairlife chocolate milk
* 1 ½ TBSP peanut butter (I like Smucker's Natural Peanut Butter as it only contains peanuts!)
* ½ scoop chocolate protein powder
* 1/2 banana, sliced
Servings: 1
How to Prepare: Stir together oats, chocolate milk, and peanut butter. Microwave for 1 minute, stir, and microwave for another 1 minute or until desired consistency. Top with sliced bananas.
4. Chocolate Peanut Butter Cake Batter
Here is a high protein, double peanut butter snack from The MetaShred Diet that you will crave day after day. It takes less than 1 minute to whip up and tastes like you are eating cake batter from a mixing bowl.
Ingredients.
* 1 scoop vanilla protein powder
* 1 tablespoon powdered peanut butter
* 1 tablespoon peanut butter
* 2 teaspoons ground flaxseeds
* 2–4 tablespoons water
How to Prepare: In a small bowl, mix the protein powder, powdered peanut butter, peanut butter, and flaxseeds with a fork. Once the peanut butter is thoroughly mixed, begin adding water, 1 tablespoon at a time, until the consistency is that of cake batter.
5. Powdered Peanut Butter
If you are concerned about calories but crave that peanut butter flavor, reach for powdered peanut butter. Powdered peanut butter is the result of removing water and 90% of the fat from peanuts. I like PB2 Powdered Peanut Butter. This give you a lower calorie, higher fiber and higher protein food. Mix 1-2 TBSP in your next protein shake or bowl of Greek yogurt.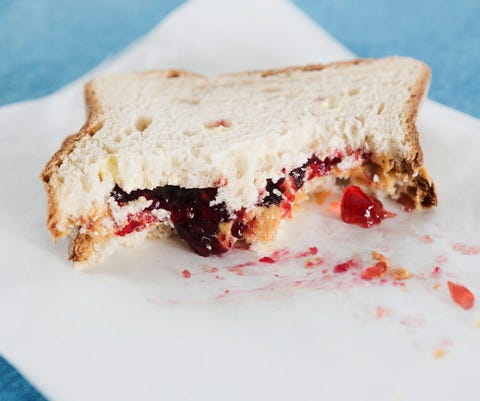 Cavan ImagesGetty Images
6. Grown Man PB&J
Peanut butter and jelly sandwiches are a classic and nostalgic comfort food – unfortunately they are also high in sugar, fat, and refined grains. Here's an upgraded version that will fuel the toughest workout you can do. In a bowl, mash 1 cup of raspberries or ½ cup of strawberries. Spread this mixture on 1 slice of a hearty high protein bread (Dave's Killer Bread or Ezekiel Sprouted grain bread). On the other slice spread 2 Tbsp of all-natural peanut butter. Combine the slices into a sandwich and enjoy a PB&J that has >15g fiber and 18g of protein.
7. PBC Toast
Avocado toast is all the rage but PBC (Peanut Butter Chia Seed) Toast will become your new, less hipster, favorite. Toast 1-2 slices of hearty high protein bread, spread 1 Tbsp of natural peanut butter per slice. Finally sprinkle with 1.5 tsp of chia seeds per slice. PBC toast goes great with scrambled eggs or a bowl of greek yogurt providing additional protein and fiber to your breakfast— two key nutrients that most breakfasts are deficient in.
8. Peanut Dipping Sauce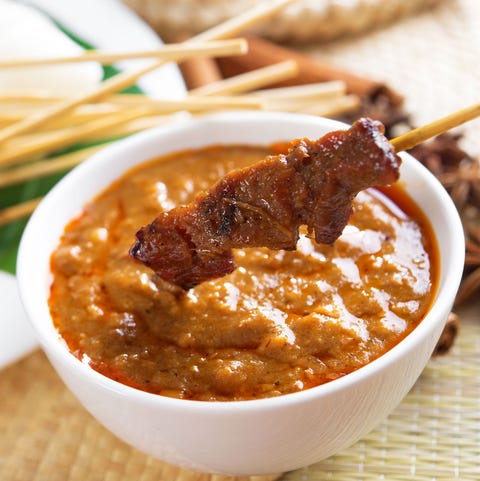 szefeiGetty Images
This simple dipping sauce will make you look forward to eating the plain old chicken breasts that plague most meal plans.
Ingredients.
* ½ cup peanut butter
* ½ cup chicken broth
* 2 Tbsp coconut milk
* ½ clove minced garlic
* 1 Tbsp lime juice
* 2 tsp soy sauce
How to Prepare: Combine all the ingredients in a blender or food processor and blend until smooth. Cut chicken breast into strip and dip into the peanut sauce.
9. Chocolate Peanut Butter Power Balls

These chocolate peanut butter balls are a great grab and go snack that can be prepared in advance to ensure you have a desirable high-protein snack whenever you need one.
Ingredients
* 3 scoops chocolate protein powder
* ¼ cup flaxseed meal
* 1/3 cup natural peanut butter
How to Prepare: Thoroughly mix all the ingredients in a bowl (add a little water if necessary – 1 TBSP at a time). Use a Tablespoon to form half-spheres and place in freezer for 2 hours before eating (if time is an issue you can eat them right away but they taste better when frozen).
10. Ginger-Lime Peanut Salad Dressing
Peanut butter also makes an incredible salad dressing. Instead of reaching for a store bought one packed with preservatives and low-quality oils here is a delicious ginger-lime peanut salad dressing that you can whip up in minutes as home courtesy of WACS Global Master Chef Ken Arnone.
Ingredients
* ¼ cup creamy peanut butter
* 3 Tbsp rice vinegar
* 2 Tbsp lime juice
* ½ tsp of lime zest
* 1 ½ Tbsp soy sauce
* 2 Tbsp honey
* 2 tsp ginger, minced
* 1 ½ tsp garlic, chopped
* 2 Tbsp scallions, thinly sliced
* 1 tsp sesame oil
* 3 Tbsp Extra virgin olive oil
* Cayenne pepper, black pepper, and kosher salt to taste.
How to Prepare: Combine all ingredients except for the scallions, oils and seasoning in a stainless-steel bowl. Whisk well to thoroughly combine. Slowly add the oils while whisking. Taste, add seasoning and adjust according to preference. If the dressing is too thick adjust with a small amount of water.
Source: Read Full Article