Two Simple Diet Changes Helped This Guy Get Jacked and Reveal His Six-Pack
Chris Arpino is the type of guy you'd look at and assume he was always healthy. At 5-foot-9 Arpino, 37, who lives in Cornwall, England, never hit more than 191 pounds. But after years of ignoring his health, Arpino discovered he was living a lie—he never worked out, he never ate right. So when he suffered a serious back injury, he knew it was time to go from skinny fat to genuinely healthy.
"Before my transformation, I was always a very skinny guy. I could get away with eating anything and I never really gained fat," Arpino admits. "But I also had very little in the way of muscle mass." Like most guys in their early 20s, Arpino admitted he'd go to the gym and only work on his glamour muscles, like his arms and shoulders, so he'd look good in a t-shirt. But he neglected the rest of his body when it came to both how he worked out and how he ate. In 2008, he got the wakeup call he needed.
"I was at my business, which makes bespoke interiors, when I had a 660-pound birch ply sheet fall on me. It crushed my spine and caused multiple back injuries," Arpino said. Those injuries included a compression fracture of his L4/L5 vertebrae. He also suffered a dislocation of several vertebrae and had to have ongoing pelvic correction.
"I had a very, very long recovery. I had to give up my home and business and live back at my family home to get the care I needed," Arpino says. "I had to re-teach myself basic things such as bending to sit in a chair or getting in and out of a car, walking unassisted without my legs giving out under me."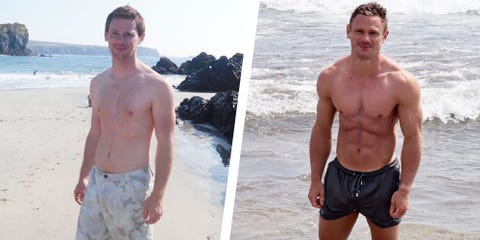 Chris Arpino
Arpino had to give up all his beloved hobbies, including motorcycle racing and surfing due to their high-impact risk. From his injury date until 2011, Arpino didn't step foot in a gym. In fact, he didn't workout anywhere, including in his own home.
He'd eat at restaurants or get take out every night for weeks on end. There was only one thing that could stop Arpino's vicious health cycle: The birth of his first child.
"My daughter was born in December 2012, so in 2013 I decided it was time to try and get back healthy and in shape," he says. However, not knowing where to start, Arpino left the idea of getting healthy behind. Until, one fateful day while sitting in a restaurant eating a shared platter of pork nachos meant for two people all by himself, Arpino saw an ad for LiveUp.
"I signed up there and then in the restaurant and began the program the next morning," he says. "I had always been a fan of Ultimate Performance personal trainers. I follow the owner, Nick Mitchell, on Instagram and always appreciated his honest no-nonsense attitude of saying it how it is, which is something I always try to do."
In the beginning, Arpino says, the program felt overwhelming—it was full of movements he had never done before. Because he was 100 percent committed to bettering himself for his daughter, however, Arpino performed every set and every rep just as prescribed.
Though he loved his workouts, Arpino said what LiveUp really changed for him was his nutrition. Arpino learned how to break down a meal into macronutrients, finding out exactly how much protein, vegetable, carbohydrates, and fats he should be eating. And he finally learned all about portion control. Most importantly, he says, they kept it simple.
"The two simple things that made a big impact to the speed of my results was cutting out all alcohol and caffeine," he says. "It wasn't until I stopped that I realized how much stress I was putting my body under." After 12 weeks on the program, Arpino went from a gangly 191 pounds and 16 percent body fat down to a fit 174 at 8 percent body fat. Now, a full year out, Arpino is still hovering at that eight percent, but he's added a bit more muscle mass to hit 180 pounds.
"Aside from the physical appearance benefits, there is a huge mental, and psychological benefit," he says. "When you look good you feel good, you're happier and healthier."
And to all the other skinny-fat guys out there, Arpino says not to go it alone. Seek out the help of a trainer, nutritionist, or expert to help you get the body you want and one that will work healthfully for you.
"You get constant support and guidance. All you have to do in return is commit and the results will come," he says. "I am a testament to that. I am not special, I do not have great genetics or perfect symmetry, but what I did have was commitment and total faith in the process."
Source: Read Full Article