Watch: J.Lo And A-Rod Just Posted Their 10-Day Wedding Workout Challenge To YouTube
A-Rod posted a behind the scenes video of his wedding workout with J.Lo.
The two endure a tough total-body workout, covering nearly every area of the gym.
A-Rod and J.Lo regularly work out together at Gold's Gym in California.
In case J.Lo and A-Rod didn't already hold the unofficial title of fittest couple of the year…they've certainly earned it after their intense pre-wedding workout challenge.
A-Rod just posted a video on YouTube titled: "SWEATING FOR THE WEDDING," which opens with A-Rod announcing they're on "day three" of what's later revealed to be a 10-day workout challenge (yes, another 10-day challenge). The video wastes no time jumping right into the action, set to the music of J.Lo's upbeat song "Dinero."
In the first gym scene, the two warm up on the elliptical, rocking a matching pair of trash-bag-looking jumpsuits, which A-Rod explains are "sweet sweat suits" that are "supposed to make us sweat."
After some more cardio machines for a warmup, their workout really takes off (no more sweat suits, though, sorry to disappoint). With the help of their trainers, the couple conquers triceps pulldowns, lying cable flies, Roman chair abs extensions, lat pulldowns…and so so much more.
But these two didn't miss a chance to keep things fun. At one point, J.Lo takes a quick dance break mid-workout, and tries to teach A-Rod a couple smooth moves. (Let's just say, he may need a few more lessons from the WOD host before their big day.)
A post shared by Alex Rodriguez (@arod) on
The video also shows the couple demo-ing some floor work—like donkey kicks, situps, and punches—and J.Lo doesn't shy away from strapping on heavy ankle weights. "Give me the big one," she tells her trainer in the video, before A-Rod mentions he can't use ankle weights after two hip surgeries. "But your hips work perfectly," J.Lo teases back. (Talk about some tough love!)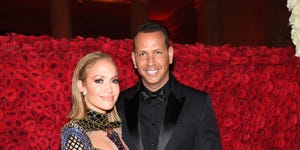 Throughout the video, it seriously seems like these two hit every type of exercise and piece of equipment in the gym…but keep in mind (thanks to a few clear outfit changes), this video features a few days of the couples' 10-day challenge, not just one workout.
The grind never stops. . . . What are you going to make of 2019? 👇🏽 #thecorp
A post shared by Alex Rodriguez (@arod) on
This certainly isn't the first time the iconic couple hit the gym together. A-Rod regularly posts videos of their workouts at Gold's Gym in Venice Beach, California. A-Rod and J.Lo are also obsessed with the workout studio TruFusion, which offers a blend of hot yoga and bootcamp.
A-Rod's latest BTS video ends with him talking directly into the camera and stating: "Champions start in the f***ing weight room. Let's go!"
Dang…these two do NOT mess around. Congrats to the happy (and fit) couple!
Source: Read Full Article